3. IC (Ref Standard ICES-003/ICES-005)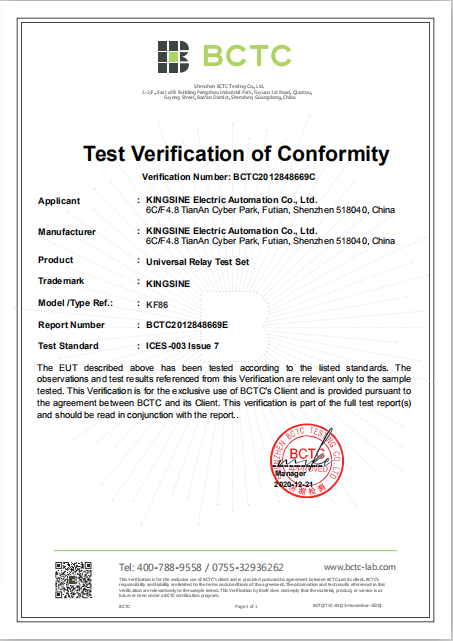 KF86 is a portable relay protection tester developed by KINGSINE Company for 2 years. In response to customer feedback on the portable needs of similar products on the market, we perfectly solve the problem that digital-analog integrated products are generally large in size and heavy in weight. The shortcoming of inconvenient use, the weight of the whole machine is 10kg (about 50% weight of similar products), and it has 8 fiber ports for IEC61850 testing, and has 6 voltages (6*300V) and 6 currents (6 *30A) Analog output.
We have basic software function as Test center,XRIO import,relay template library, one key test function, beside, we add special function for merging unit testing, like MU accurancy testing, MU delay time testing, Timing test, Voltage parallel test, Voltage cascade test,etc
KINGSINE always adheres to the concept of brand and quality, and attaches great importance to product quality. Product standard certification is a mirror to product quality. We hope that customers can know more about KINGSINE product quality and full of confidence in the quality of KINGSINE products through various certifications provide by KINGSINE product
KINGSINE will focus on product quality in future times, We also Work hard for build a first-class brand of relay test equipment.